PT Waskita karya (Persero) Tbk focuses on completing the section 2 Ciawi – Sukabumi (Bocimi) and Cimanggis – Cibitung section 2 (CCT) toll roads. The plan is for the two toll roads to be completed by the end of 2022. The two toll roads are projects that receive an additional 2021 State Capital Participation (PMN) fund injection.
SVP Corporate Secretary of the Company Novianto Ari Nugroho said Bocimi is a toll road that connects the cities of Jakarta, Bogor, and Sukabumi and is part of the Government's plan to increase regional accessibility as well as distribute traffic between the cities of Jakarta and Sukabumi, where access to the new road network can grow tourism sector to boost the economy and create jobs.
"This toll road is located in the Sukabumi Regional Activity Center (PKW), which is included in the regional development area and is closely related to efforts to provide transportation infrastructure to encourage economic growth in the surrounding area, industrial activity centers, transportation nodes, and public service centers with the scale of several districts," he said.
Meanwhile, Novianto continued, the 26.18 KM Cimanggis-Cibitung Toll Road is part of JORR II, the outer ring road that was built to cope with the JORR I overload which stretches from Cengkareng - Kunciran - Serpong - Cinere - Jagorawi - Cimanggis - Cibitung - Cilincing along 110 KM. This toll road section can facilitate the accessibility/mobilization of vehicles from West Java to the city of Jakarta or vice versa. Then it is also included in the plan for the development of urban sub-centers, including Serpong/City Mandiri Bumi Serpong Damai, Cinere, Cimanggis, Cileungsi, Setu, and Tambun/Cikarang as well as logistics activities that can increase regional development and regional and national economic growth.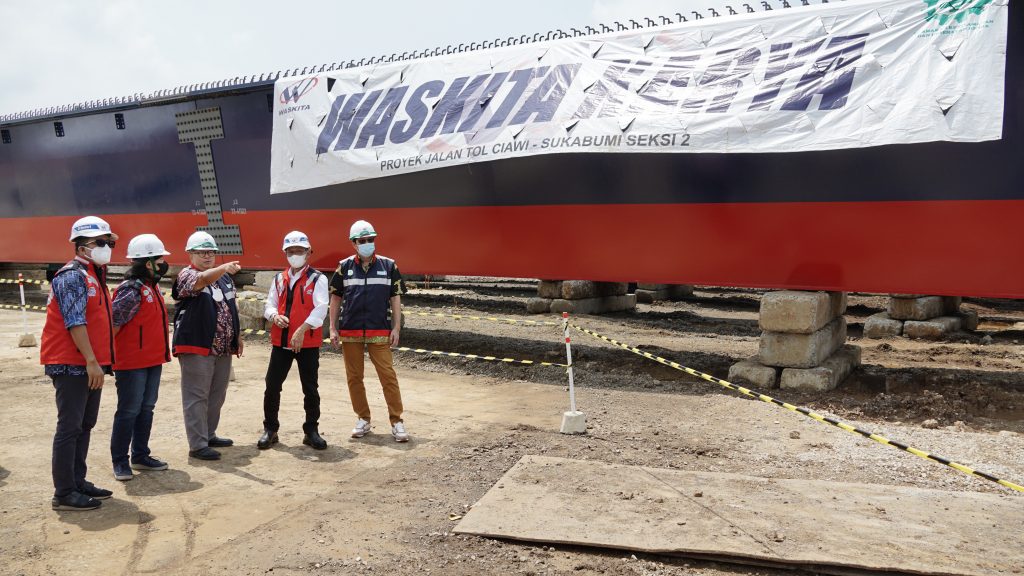 Novianto also added that the work of these two toll roads will soon be completed by the end of 2022. "The completion of the Bocimi toll road segment still requires additional PMN 2022 funds allocation, but it is confirmed that it will still be completed in December 2022. Meanwhile, the Cimanggis - Cibitung toll road will also be completed. completed by the end of this year, plus WTR has carried out a share swap of 55% of its stake in CCT to PT Sarana Multi Infrastruktur to accelerate the completion and operation of all segments of the Cimanggis - Cibitung toll road in 2023," he added.
On Friday, September 16, the Assistant Deputy for Infrastructure Services at the Ministry of State-Owned Enterprises (BUMN) Mrs. Hendrika Nora Osloi Sinaga led a working visit to the project site to monitor and evaluate the absorption of PMN funds in the two projects. Director of Operation II Bambang Rianto and Director of Finance & Risk Management Wiwi Suprihatno accompanied the group.
It is known that the Ciawi - Sukabumi Section 2 toll road section received an allocation of PMN 2021 funds of Rp. 637 billion through Waskita Karya's subsidiary, PT Waskita Toll Road (WTR) to PT Trans Jabar Tol (TJT). Currently, the construction progress has reached 86.22% in the 11.9 km Cigombong – Cibadak segment and is projected to be completed in December 2022.
Meanwhile, the Cimanggis – Cibitung toll road Section 2A received a PMN fund allocation of Rp. 622 billion through PT Cimanggis Cibitung Toll Ways (CCT). Currently, the construction progress has reached 86.87%, namely the 3.4 km Jatikarya – Cikeas segment which is projected to be completed in January 2023 and fully operational in December 2023.