PENDAFTARAN RBB BATCH #2 DIBUKA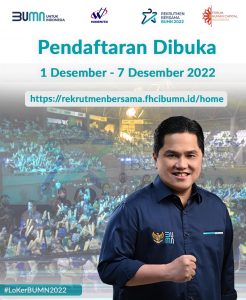 BUMN terus ciptakan Lapangan Kerja,
Rekrutmen Bersama BUMN (RBB) adalah bagian kecil dari lowongan kerja yang dibuka oleh BUMN.
Tersedia lebih dari 890 posisi sesuai dengan kebutuhan masing-masing BUMN. Eksplorasi peluang karir kamu yang tersedia di berbagai BUMN. Talenta terbaik yang memiliki ijazah Diploma, S1 dan S2 dapat ikut mendaftar.
Bagi kalian yang kemarin sudah mengikuti RBB batch 1 dan masih belum berhasil silakan coba lagi!
Buat kalian yang baru pertama kali ikut, siapkan diri kalian sebaik mungkin
Seluruh tahapan Program RBB 2022 Batch 2 ini BEBAS BIAYA. Hati-hati penipuan dan Hoax yang mengatasnamakan Kementerian BUMN dan Forum Human Capital Indonesia (FHCI) tidak bertanggung jawab atas segala kerugian yang ditimbulkan akibat penipuan tersebut.
Untuk pendaftaran dan info persyaratan;
https://rekrutmenbersama.fhcibumn.id/home 
Apabila ada pertanyaan jangan ragu untuk menghubungi kami melalui:
(Helpdesk Rekrutmen Bersama BUMN)
WA :+62 811-8954-320
E-mail :rekrutbersama@fhcibumn.id
Telegram : @BumnFHCI_bot
Ayo bergabung bersama kami!
Belajar, bertumbuh dan berkontribusi untuk Indonesia.
Bagikan informasi ini ke keluarga, kerabat, dan rekan-rekan.
Follow dan pantau terus media sosial FHCI untuk mendapatkan info lebih lanjutnya
Kami Hadir, Kami Bergerak, Kami Bekerja, Kami Bersinergi
Website: www.fhcibumn.com
Email: fhcibumn@gmail.com
Instagram: fhci.bumn
Twitter: @fhcibumn
Youtube: FHCI BUMN
LinkedIn: Forum Human Capital Indonesia
Saat ini PT Waskita Karya (Persero) Tbk tidak membuka program recruitment Management Trainee atau Vocational Recruitment Program
PERHATIAN
Please be aware of recruitment scams on behalf of PT. Waskita Karya (Persero) Tbk.
Recruitment of PT. Waskita Karya (Persero) Tbk. Free of charge and does not cooperate with any Tour & Travel bureau.