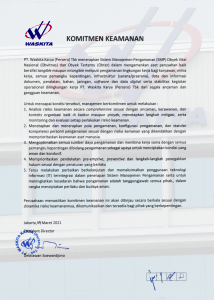 Waskita Karya (Persero) Tbk implements the National Vital Objects (Obvitnas) and Specific Objects (Obter) Security Management System in securing the Company's assets, both tangible and intangible including securing the work environment for employees, partners, all stakeholders, infrastructure ( facilities), data and information on documents, equipment, materials, networks, software, and digital data as well as the stability of operational activities in the work environment of PT. Waskita Karya (Persero) Tbk from all threats and security disturbances.
The company's management is committed to do several things until these conditions are achieved. Namely by doing the following:
Comprehensive security risk analysis by threats, vulnerabilities, and organizational contexts both in the office and projects, determine mitigation measures, monitor and evaluate each security risk treatment.
Establish and implement security patterns, security configurations, and security personnel competency standards based on security risks and control by prioritizing the security of human assets.
Optimizing all security resources and fostering cooperation with all stakeholders in the security sector as an effort to create safe and conducive conditions.
To Prioritize the pre-emptive, preventive approaches and law enforcement measures following applicable regulations.
Continuously making improvements and maximizing the use of integrated information technology (IT) integrated the implementation of the Security Management System and increasing awareness that security is the responsibility of all parties to create a safe behavior and culture.
The company ensures that this security commitment will be reviewed regularly according to the dynamics of its security risk, communicated, and made available to interested parties.
Jakarta, March 9th 2021
President Director
Destiawan Soewardjono