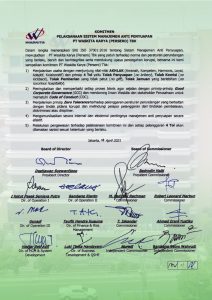 Based on the implementation of SNI ISO 37001:2016 regarding the Anti-Bribery Management System, PT Waskita Karya (Persero) Tbk, complies with applicable norms and laws and regulations, is clean and has integrity, and supports corruption prevention efforts. we convey the commitment of PT Waskita Karya (Persero Tbk:
Running a business by upholding the values of AKHLAK. (Trust, Competent, Harmonious, Loyal, Adaptive, Collaborative) and the 4 Toll principles, namely no bribery, no kickback, no gift, and no luxurious hospitality.
To Increase and improve every business process to be following the principles of Good Corporate Governance (GCG) and encourage Waskita personnel and Company stakeholders to comply with the Code of Conduct (COC).
Implement the principle of Zero Tolerance against violations of laws and regulations related to criminal acts of corruption and protect whistleblowers from retaliation, discrimination, or disciplinary action.
Communicate internally and externally the importance of effective anti-bribery management.
To supervise the implementation of this commitment and any violation of the 4 Toll Roads will be subject to sanctions following applicable regulations.
Jakarta, April 28th 2021