Jakarta, 6 September 2022, PT Waskita Karya (Persero) Tbk. (Stock Code: WSKT) The Indonesia Investment Authority (INA) through its wholly-owned subsidiaries, namely PT Rafflesia Investasi Indonesia (RII) and PT Abhinaya Investasi Indonesia (AII) signed the Transaction Settlement Agreement of PT Waskita Karya (Persero) Tbk (WSKT) ) and its subsidiary PT Waskita Toll Road (WTR), for 2 (two) sections of the Trans Java Toll Road, namely the Kanci – Pejagan Toll Road and the Pejagan – Pemalang Toll Road. The signing of this Transaction Settlement Agreement is a follow-up to the signing of the Confirmation of Transaction Commencement (CTC) between the two parties witnessed directly by President Joko Widodo last April. The collaboration between INA and Waskita Karya will further strengthen Waskita Karya's cash flow to accelerate the completion of other toll road projects in Indonesia that are currently under construction.
Waskita Karya President Director, Destiawan Soewardjono said, "The transaction settlement agreement between INA and Waskita Karya is a form of support for the commitment of the company to accelerate the completion of the construction of other toll roads that are still under construction, and national strategic projects set by the Government."
"This collaboration further strengthens the Company's working capital structure, so that future financial and operational performance will be more robust and sustainable. This is our commitment to ensure that in the next five years, the projects undertaken by Waskita Karya can run well," added Destiawan.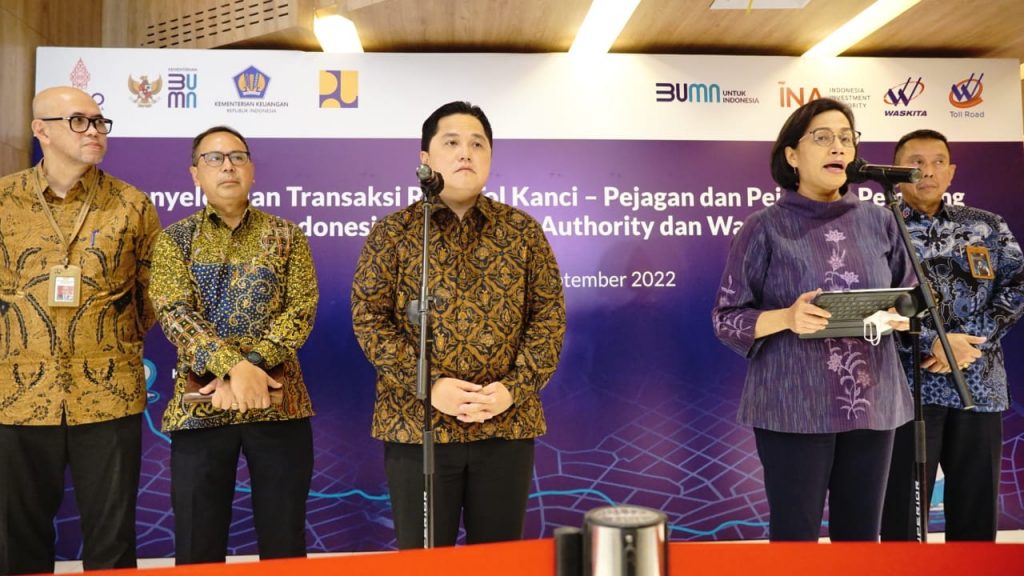 On the same occasion, the Chairman of the Board of Directors of INA, Ridha Wirakusumah said "The Transaction Settlement Agreement between INA and Waskita Karya is a tangible manifestation of accelerating the realization of investment for the development of major infrastructure, especially toll roads. We would like to thank Waskita Karya for meeting the standards of good governance, risk management, as well as pro-environmental and social principles, following what INA has set strictly."
"We hope that today's collaboration with INA is the first step and will be followed for other sectors, and in the end, it will be able to encourage economic growth and have a real impact on optimizing the economic potential in Java," added Ridha.
This transaction is supported by banking partners and financial institutions, namely PT Bank Negara Indonesia (Persero) Tbk (acting as Coordinator), PT Bank Mandiri (Persero) Tbk, PT Sarana Multi Infrastruktur (Persero), and PT Bank Pembangunan Daerah Jawa Tengah. The financing structure provided is the first in toll road financing in Indonesia, where there is no recourse to sponsors and creditors who rely on the feasibility of the related project independently.
Following INA's mandate, INA plays a role in attracting investment, both domestic and international, as an alternative to non-debt financing, which is used to build sustainable infrastructure in Indonesia, including the development of toll road infrastructure. As an alternative source of financing, the involvement of INA supports the realization of long-term prosperity for all Indonesian people.