Jakarta, 7 September 2022, PT Waskita Karya (Persero) Tbk. (Stock Code: WSKT) is again trusted to work on the construction project of the Cipto Mangunkusumo Hospital (RSCM). This time, Waskita won the tender to continue the construction of the Central Medical Unit 3 (CMU3) Building at the Dr. Cipto Mangunkusumo National Hospital with a contract value of IDR 252 billion.
Penandatanganan kontrak dilakukan oleh Pejabat Pembuat Komitmen (PPK) Pengadaan Barang/Jasa
Perencanaan, Organisasi dan Umum dr. Arif Rahman Sadad, Sp.KF (K), M. Si. Med., S.H., DHM dengan SVP Building Division A. Agung Gede Sumadi yang disaksikan oleh Direktur Utama RSCM, dr. Lies Dina Liastuti, SpJP(K), MARS, FIHA, Director of Operation I & QSHE PT Waskita Karya, I Ketut Pasek Senjaya Putra dan juga Project Manager, Marco Sulistyo. Penandatangan berlangsung di RSCM pada hari Senin, 5 September 2022.
Pasek welcomes the construction of the CMU3 Building. "It is hoped that the construction of the Central Medical Unit 3 (CMU3) Building at the Dr. Cipto Mangunkusumo National Hospital can support the provision of health services for the Indonesian people, especially in the DKI Jakarta Province area," said Pasek. The Company previously received an assignment to prepare a COVID-19 Hospital in the Kiara RSCM Building within one month. Armed with this experience, RSCM strongly believes that Waskita's experience can complete the work according to the target.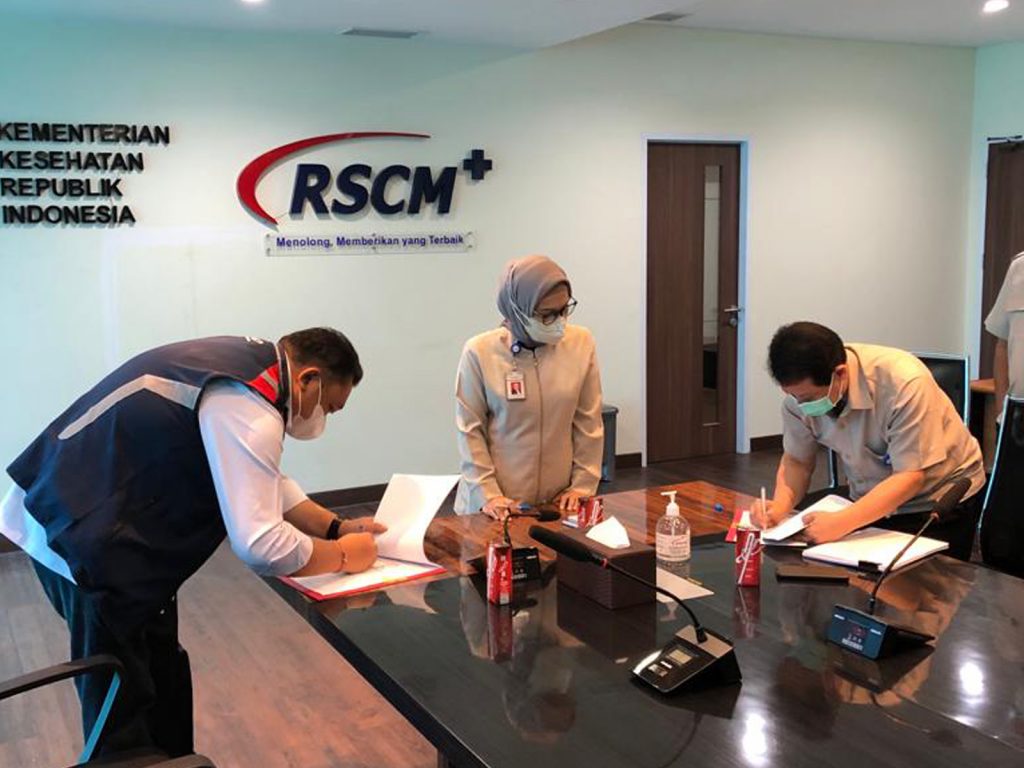 Pasek added, Waskita has also experienced building several hospitals such as Cahya Kawaluyan Padalarang Hospital, Pasar Minggu Hospital, and Galang Island COVID-19 Emergency Hospital, Batam, and several other COVID-19 Emergency Hospitals in a short time. "We will send a reliable and competent team to implement lean construction standardization and digitization of Building Information Modeling (BIM). Waskita is committed to working on this project with the right quality, on time so that the quality will be guaranteed and add to the Company's portfolio in building hospitals," said Pasek.
SVP Corporate Secretary of the Company, Novianto Ari Nugroho added, this construction work will take 120 days and is targeted to be completed on 29th December 2022. The scope of work includes; Site Development Work, Structure, Architecture, Mechanical Electrical & Plumbing, and Interior. "With this contract, of course, it will increase the value of our new contract, and this is the focus of the Company in pursuing the NKB target this year," added Novianto.
For information, the CMU3 RSCM Building will be built on a land area of 2,400 m2 with a building area of 24,500 m2 which has 12 floors, 1 basement, and a ground floor area of 1,800 m2.